sector sustainability modules
These sustainability modules contain a series for each of the sectors of the supply chain. Participate in them to identify key areas of opportunity for improvement at your operation.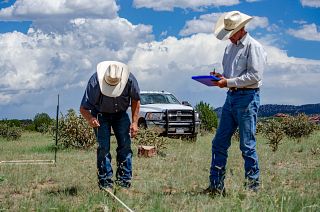 Grazing Management Plan Development module
As cattle producers, you know your land, herd and natural resources better than anyone else. Use this module below to see how you can continue to excel in your operations.
For those applying to the Rancher Resilience Grant, please click on the link above to complete the modules. Note that you must either create a login or fill in your contact information for each module to be eligible.
SUSTAINABILITY MODULE DEVELOPMENT GENEROUSLY SPONSORED BY CARGILL
Self-Assessment Tool
Assess and measure your business/operation against the U.S. Beef Industry Sustainability Framework to find opportunities for continuous improvement.
The self-assessment tool does not retain any information apart from tracking the number of times the tool has been completed. If you wish to keep your results you must download a copy of the report and save and/or print it for your records. The tool asks for name and business name in the event that the user has multiple facilities or operations under their control and need to export data with identifying information.